Starclassic Kit

Drums: Tama Starclassic Performers (100% birch) in Amber Gold with Aquarian Studio X's on all the toms, EMAD on Kick.

8"x8" Rack Tom
10"x10" Rack Tom
11"x12" Rack Tom
12"x13" Rack Tom
16"x16" Floor Tom
16"x22" Bass Drum w/ Tama Double Pedal
6.5"x14" Starclassic Maple Snare Drum

Cymbals: All Zildjian "A"'s unless otherwise listed

10" Thin "K" Splash
12" Thin Crash
14" New Beat Hi-Hats
14" Z Custom DynoBeat Hi-Hats
15" Thin "K" Dark Crash
16" China Boy (Low)
17" Thin Crash
17" Medium Thin Crash
18" Medium Thin Crash
18" China Boy (Low) Brilliant
22" Z Custom Power Ride

I also use a Gibraltar 3 sided (all curved bars) Road Series Rack System with all Tama Hardware and a Roc-N-Soc Drum Throne. I added some various percussion items such as a 72 bar LP Chimes set, 9" LP Cowbell, 6" LP Salsa Bell, LP small "Jam Block" and a Rhythm Tech DST Tamborine.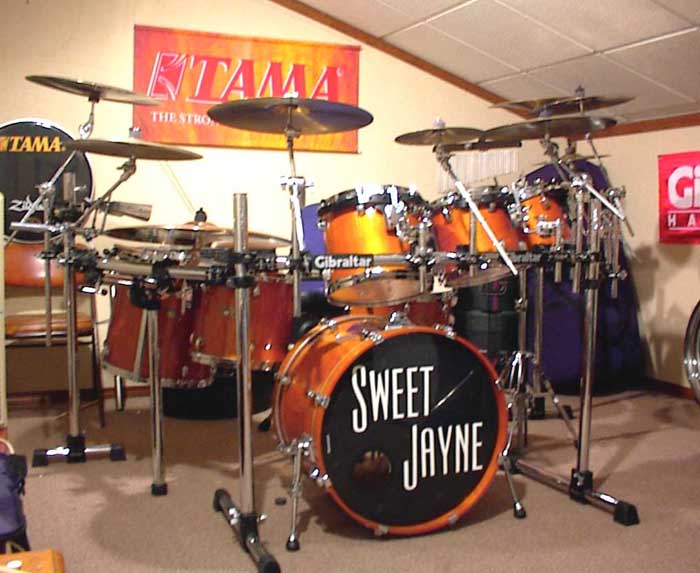 Starclassic Kit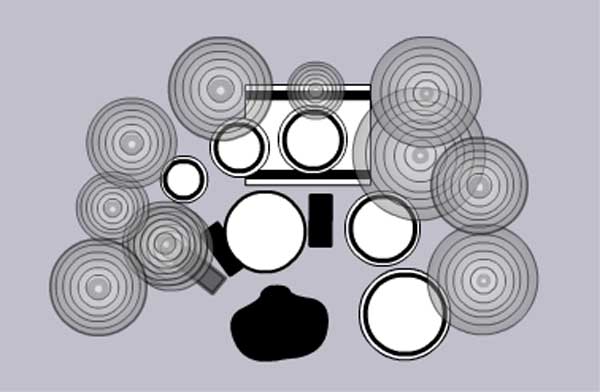 Rehearsal Kit
Drums: TAMA Rockstar DX in Gloss Black Wrap
Same configuration exactly (8/10/12/13/16/22) as the Starclassic kit with the exception it sits on a Gibraltar Road Rack and uses about 3 less cymbals. (I swap the same cymbals) All Remo Pinstripes on the toms.
Truthfully, I have recently reconfigured the Rehearsal kit to be similar to the Gig kit...go figure... :)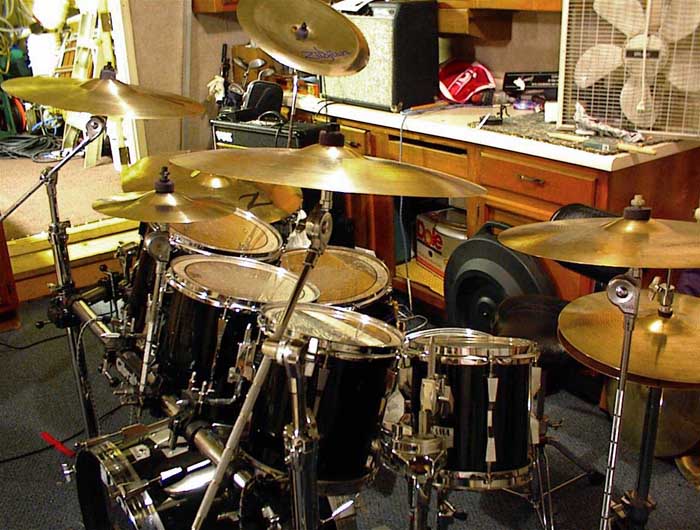 Rehearsal Studio Kit
Gigging Kit
Drums:
Old Kit: TAMA Rockstar DX's... Gloss Black Wrap 2up / 2down
New Kit: TAMA Granstars... Gloss White Wrap 2up / 2down
10" x 10" Rack tom
13" x 13" Rack tom
16" x 16" Floor tom
16" x 18" Floor tom
16" x 22" Bass Drum (24" on Old Kit)
6.5" x 14" Starclassic Maple Snare (Honey Gold)
All Zildjian Cymbals
10" K Splash
14" New Beat Top HH
14" Z Custom "Dyno Beat" Bottom HH
15" K Dark Crash
17" A Thin Crash
18" Medium Thin Crash
18" China Boy (low)
22" Z Custom Power Ride
I have gone to this oversized "Gig" kit to reduce amount of equipment to take to gigs and to have the flexibility to make size adjustments easier than with the full rack. I have reduced the hardware to 4 cymbal / tom stands plus HH, snare, and throne. With new Gig kit added 72 bar LP Concert Chimes and the Rhythm Tech DST and dropped the 12" splash.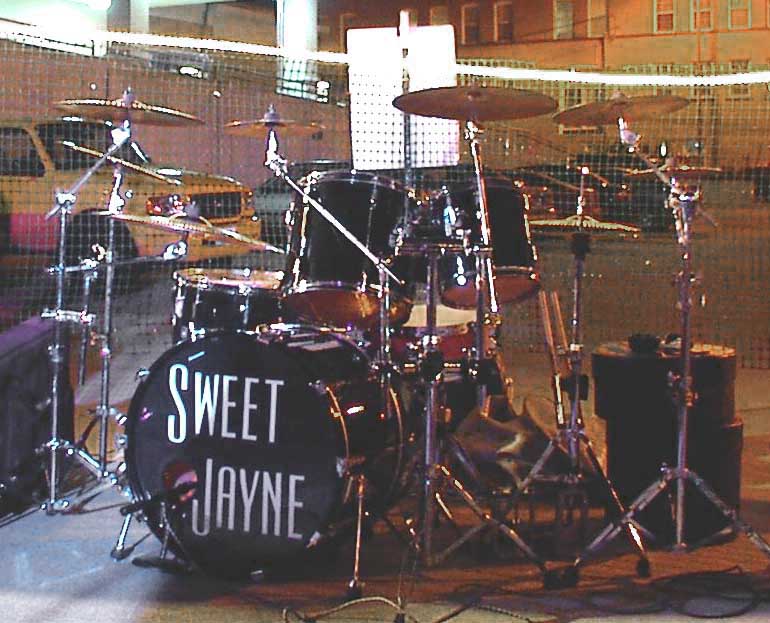 Gig Kit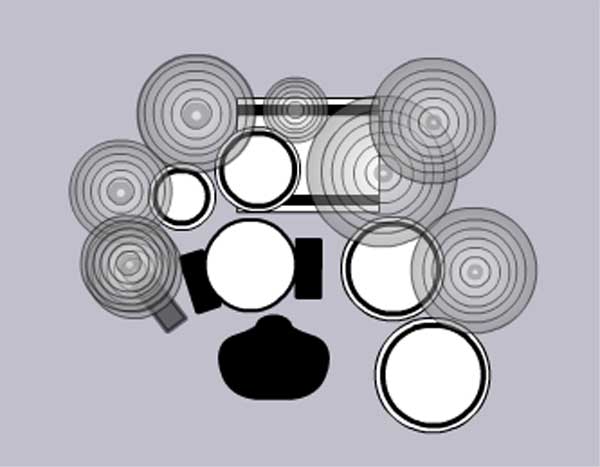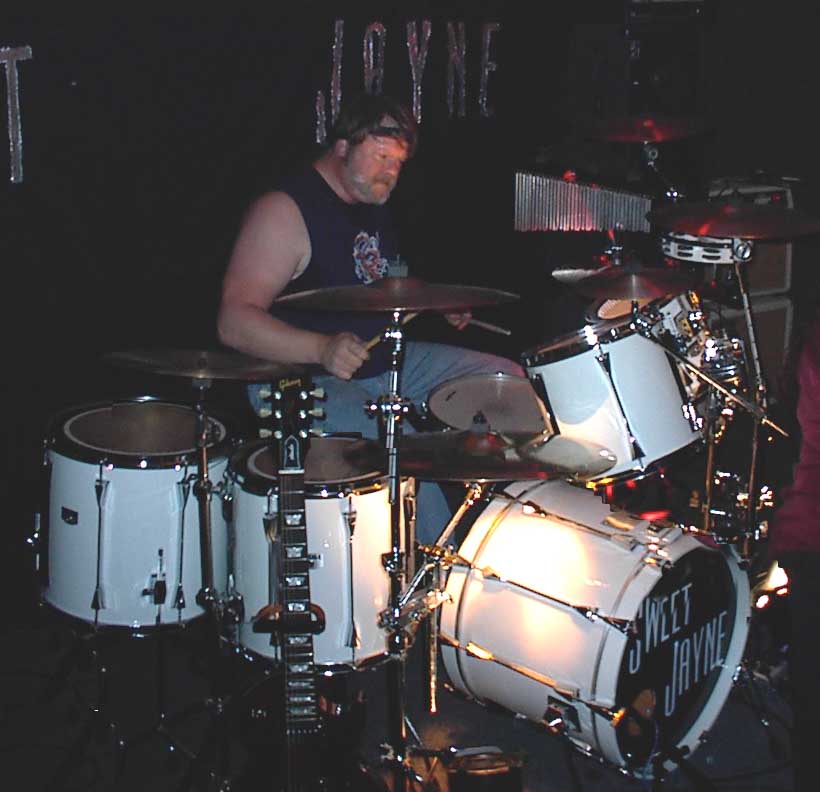 New Gig Kit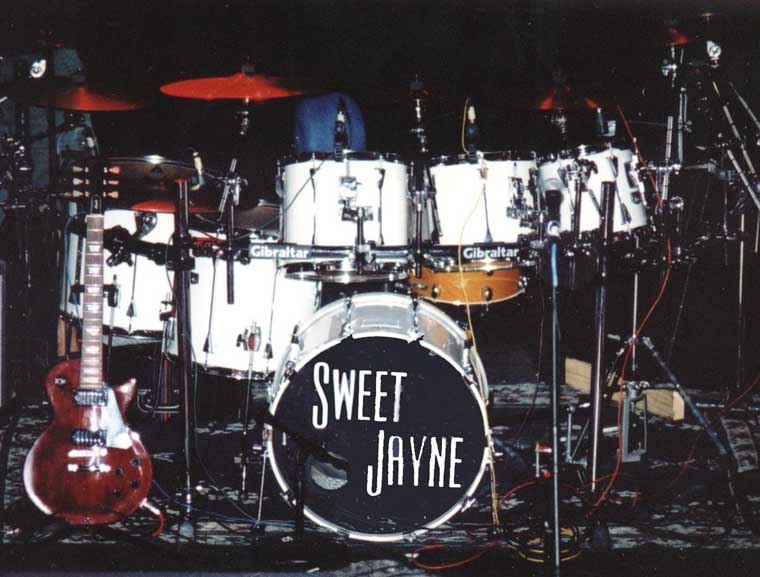 Full Granstar Kit on the Big Rack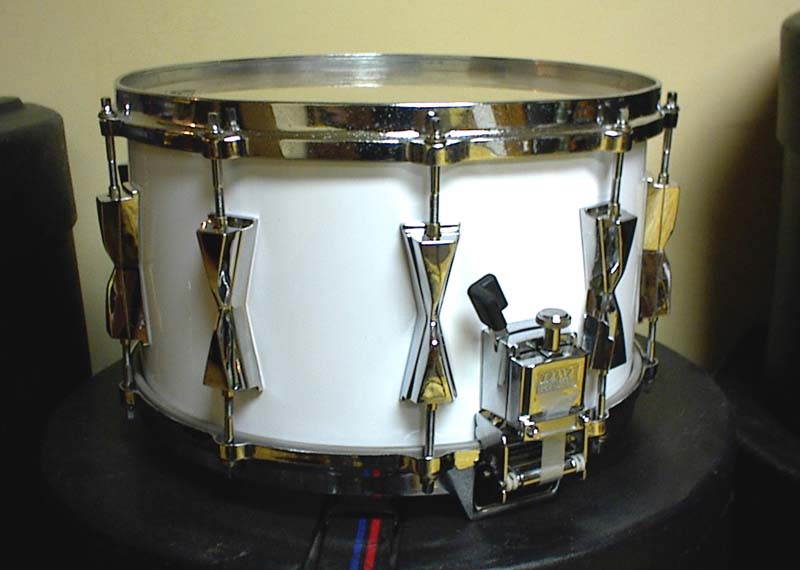 This is my newest addition to the "Gig Kit". This is a Tama Superstar 8"x14" Snare drum that I custom cut new bearing edges, rewrapped in Piano White and installed vintage Granstar Bowtie Lugs to match the Granstar Gig Kit. It will be the new "Back Beat" of Sweet Jayne.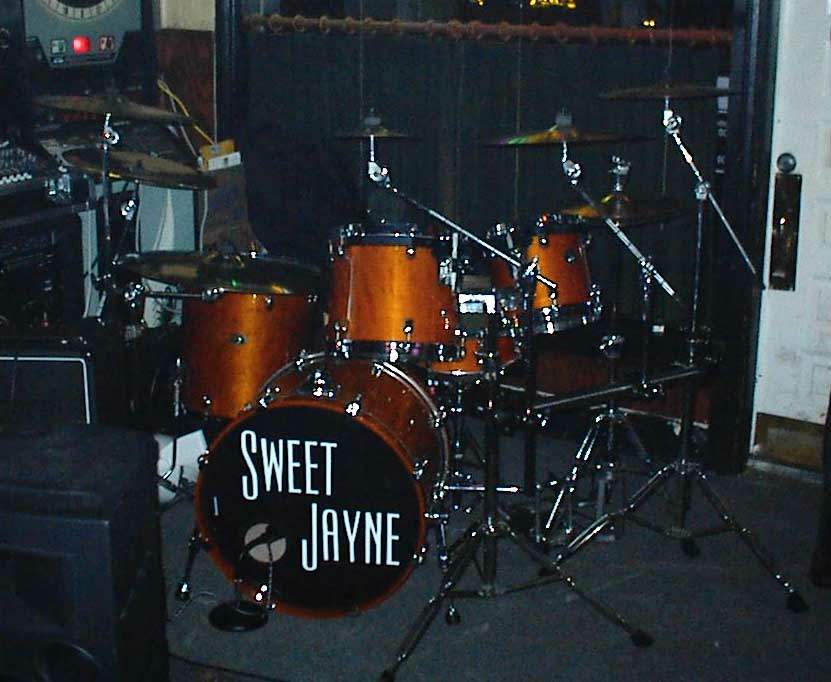 Here is a picture of my Starclassic set up in what I now use as the "gig kit" configuration. It is flexable and fun to play.
My First (Ludwig Classic) Kit...
I have received a number of questions about my original Ludwig Classic "first" drum kit and if I still owned it.

I do but I, when younger and foolish, removed the silver sparkle wrap and painted the shells gloss black to match up to my Smokey Vistalites. I recently completed a rewrap project on them. They were wrapped in Silver Sparkle, their original color. They came out quite nice I think...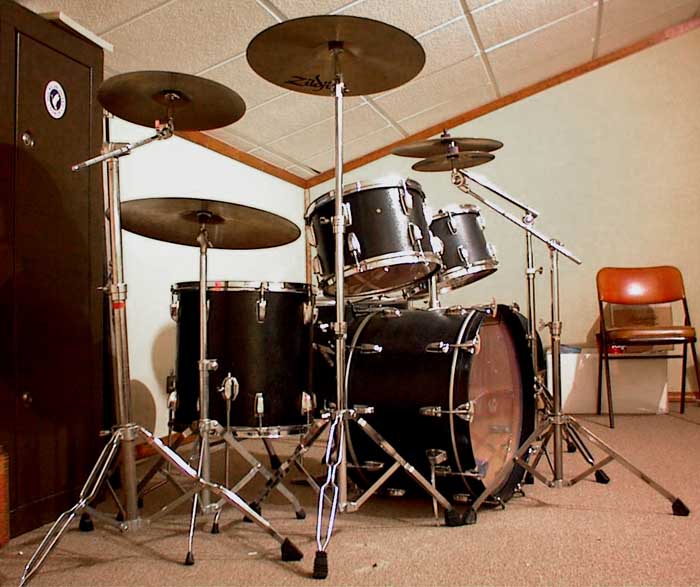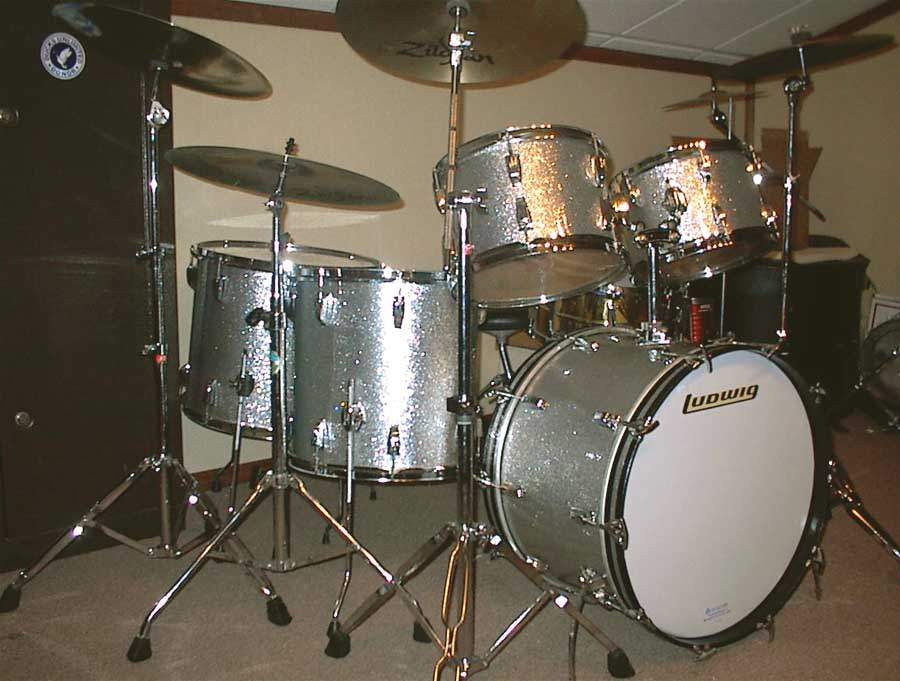 The "Drum Loft"
When I moved into my home in Columbia, I did not have a place to put up a drum kit. My wife believed it would not be a good idea to set it up in the living room, so I had to find an alternative. I had some unfinished space above my garage. I finished it off and added a door into this area. It gives me enough space to set up 3 kits. Walls, floor and ceiling are all insulated plus walls as well as floor are covered in carpeting. Here is a picture of the "Drum Loft".